What Is The 240ml Tomato Sauce Glass Jar With Lids?
This 240ml Tomato Sauce Glass Jar With Lid is produced by a professional manufacturer – CUICAN. It has the following characteristics:
240ml is the right capacity:
The common capacity for commercial ketchup in the market is 240ml. This is a standard size that most manufacturers make their products in, and it is also the size of the glass jar we use for our ketchup. However, if you want to buy in bulk, CUICAN has bigger sizes available too!
Made of Food Grade Glass:
The material of this container is food-grade glass which is safe for you to use. The glass material can resist high temperatures, so it does not easily crack or deform under high pressure. Moreover, it can be cleaned with running water and avoid any chemical contamination during the process.
Smooth opening design:
With this smooth opening design, you can easily open and close the lid. The product will not fall out when you use it. This design makes it convenient for users to use it.
With Screw-on Lids:
The screw-on lid on this jar ensures that your product can be tightly sealed up to prevent leakage or contamination. You can also use this jar to store other liquids such as oil or vinegar without worrying about spillage due to the tight seal that it has.
The lid is designed with high-grade materials, which can effectively prevent oxygen from entering and liquid from leaking. The color of the bottle cap can be changed according to the needs of customers, so that your consumers have a good impression of your product when they open it.
Can Tomato Sauce Be In A Plastic Bottle?
If you use plastic bottles to store tomato paste, there are indeed many advantages. For example, plastic bottles are cheaper than glass bottles. You can also buy them in various sizes and shapes, so as to meet your needs. They have a long shelf life and are very convenient to use.
However, is the plastic bottle really suitable for long-term storage of tomato sauce?
Plastic bottles are not suitable for long-term storage:
The answer is yes for a short time, but not for a long. The problem with plastic bottles is that they are made of polyethylene terephthalate (PET), which is a polymer that degrades over time. This degradation process releases phthalates into the contents of the plastic bottle. Phthalates are known endocrine disruptors, which means they can interfere with hormone function and damage reproductive health.
The exact amount of phthalates contained in different types of plastic depends on how long the plastic has been in use and what conditions it has been exposed to during its life cycle. Phthalates are also found in cosmetics and personal care products, so if you are worried about getting too many of these chemicals in your diet, you might want to be extra cautious about what type of food storage containers you use as well.
Why Is It Better Not To Use Plastic Bottles For Ketchup?
In addition to the above problems, plastic is not an environmentally friendly material and will have a bad impact on the environment.
Reducing plastic waste is a challenge that we all face. We are all aware of the damage that plastic bottles and containers can do to our environment. They produce harmful greenhouse gases when produced, transported, and finally incinerated after use.
Moreover, plastics have an incredibly high environmental cost in general. That's why, as consumers, it is up to us to adopt more eco-friendly habits in order to reduce the production and usage of plastics.
And as a food manufacturer who needs a large number of containers to store food every day, it is more responsible to contribute to the protection of the environment.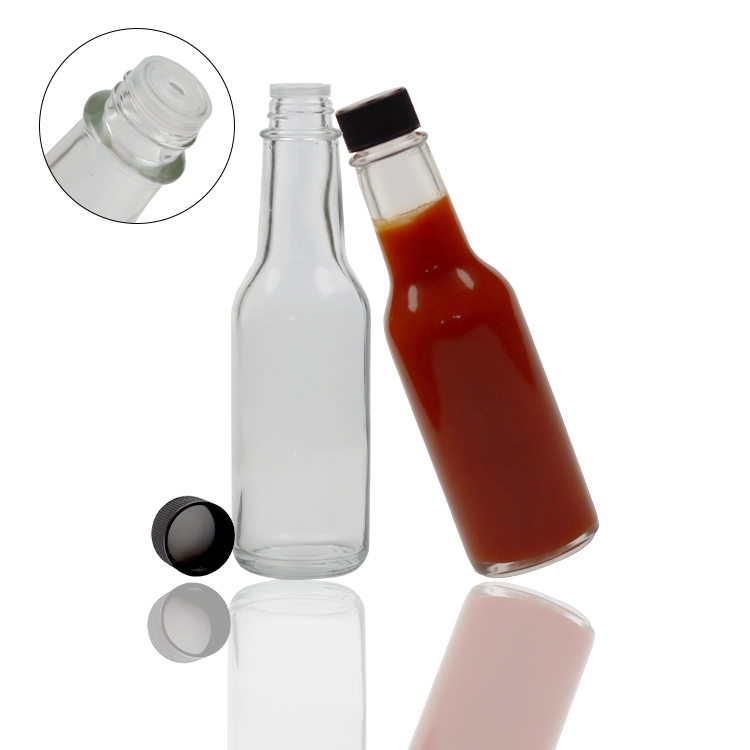 In addition, the use of glass bottles also has another advantage. It is easy to clean and maintain unlike plastic bottles, which are difficult to clean after use and can not be washed with hot water or a dishwasher. So in this case, we will choose glass bottles for ketchup.
Moreover, the use glass bottles for ketchup can be recycled at least 5 times, which can greatly reduce waste plastic pollution in our lives.
Using 240ml Tomato Sauce Glass Jar With Lid Will Add Value To Your Product:
If you are a food business and looking to add value to your product, then using the 240ml Tomato Sauce Glass Jar With Lid will be the best choice.
In addition to adding value to your product, it will also make it more attractive. People like the feel of glass jars and are attracted by the freshness of food products when they see them in glass jars.
Here are some reasons why you should use the 240ml Tomato Sauce Glass Jar With Lid for your product:
It Is Durable:
The first reason why you should consider using these jars is that they are durable. They can last long without getting damaged or breaking easily. This means that when you use them for your product, they will not break easily and will last for a long time before needing replacement.
Many consumers like to buy glass bottle containers that can be used longer. If your ketchup comes in a glass bottle, it will increase consumers' willingness to buy.
They Are Eco-friendly:
Another benefit of using these jars is that they are eco-friendly. They do not contain any harmful chemicals or materials that can damage the environment if mishandled or disposed of in landfills. There they can leak into the groundwater supply. This, in turn, leads to issues such as contamination of drinking water sources, which may adversely affect the safety of drinking water for people.
This will also show that your company attaches great importance to the environment and is an environment-friendly enterprise.
Glass bottle looks more expensive so worth it:
If you want to make your product look more premium and high-end, then using glass bottles is a good idea. It's true that glass bottles have been around for many years now, but they will never go out of style. They are classy, elegant, and sophisticated; just what you need if you want to impress customers!
Ease of transportation:
If you use glass bottles for product transportation, you will find that it is very convenient for transportation. This is especially true when you are dealing with viscous products like sauces. The reason is that glass jars have a wide mouth and they are easy to fill and empty. They also do not break during transportation, unlike plastic bottles which can crack or break easily during shipping.
High-Quality 240ml Tomato Sauce Glass Jar With Lid From CUICAN:
If you choose the 240ml tomato sauce glass jar with lids from CUICAN, you will find that it will be a very correct decision. CUICAN comes from China, which has an abundant labor force and continuously upgrading technical strength. It has 10 production workshops and 30 assembly lines with an annual output of 300 million pieces (150,000 tons). Moreover, they are happy to provide customers with personalized service.
FDA-Approved Material:
The main body is made of high-quality borosilicate glass with excellent thermal shock resistance and chemical stability. In addition, this product has passed FDA certification, so you can rest assured that no toxic substances are added during production or processing.
Get samples For Free:
Also, if you are interested in their products, you can also get free samples! You can confirm the quality of the product through some samples, which also avoids unnecessary waste of funds. This also means that they are very confident in their products and will not be afraid of being "tested" by customers.
CUICAN Provides You With Professional ODM And OEM Services:
The CUICAN tomato sauce product is designed to be used to store tomato sauce, but it can also be used for other food items such as soups, stews, pasta sauces, and more. This makes it an ideal product for restaurants or caterers who need to store different types of sauces or dressings during their busy day at work or during catering events.
CUICAN will also provide consumers with high-quality ODM and OEM services. You can put your own company logo on the bottle. Or, choose a different finish for your glass bottles to make them stand out even more!
Conclusion:
If you are still hesitating between glass bottles and plastic bottles, glass bottles are indeed a better choice. It represents a safer, greener, and healthier way of life. This is also the way your consumers like to live!