Custom glassware is a great way to promote your brand while adding a touch of elegance to any occasion. Whether it's for corporate events, giveaways, or retail purposes, the art of using branded glassware can turn a simple item into a powerful marketing tool. Xuzhou Cuican Glass Products Co., Ltd., a prominent manufacturer, opens the door to a world of possibilities with their high-quality custom glassware. In this blog, we delve into diverse design ideas that cater to various business needs ensuring your brand stands out in a crowd.
Prominence Through Personalization
1.1 Elegance in Simplicity
Clean lines, minimalist designs, and subtle branding can exude a sense of sophistication that resonates with upscale businesses. Engraving or etching your company's logo onto wine glasses, champagne flutes, or whiskey tumblers adds an element of exclusivity to your brand. This approach is perfect for high-end restaurants, luxury hotels, or boutique wineries seeking to communicate refinement and class.
1.2 Vibrant Brand Expression
For businesses with a bold and vibrant brand identity, opt for glassware that boasts a pop of color. Think about custom pint glasses, coffee mugs, or cocktail glasses adorned with your company's distinctive colors and logo. This choice is particularly effective at trade shows, exhibitions, or casual events, where the dynamic appearance of your glassware can initiate conversations and create brand awareness.
Corporate Gifting and Recognition
2.1 Timeless Awards
Acknowledging employee excellence or commemorating important milestones requires glassware that stands the test of time. Consider intricate designs on crystal awards or plaques that highlight your company's logo and the recipient's achievements. These elegantly crafted pieces serve as lasting reminders of success, enhancing your company's reputation as an appreciative and prestigious employer.
2.2 Executive Gifts
Gifting high-quality glassware to clients, partners, and executives showcases your brand's dedication to quality and lasting relationships. Engrave the recipient's name or a personalized message on whiskey decanters, desk accessories, or elegant glass sets. Such thoughtfulness creates an emotional connection and establishes your brand as a thoughtful and reliable business partner.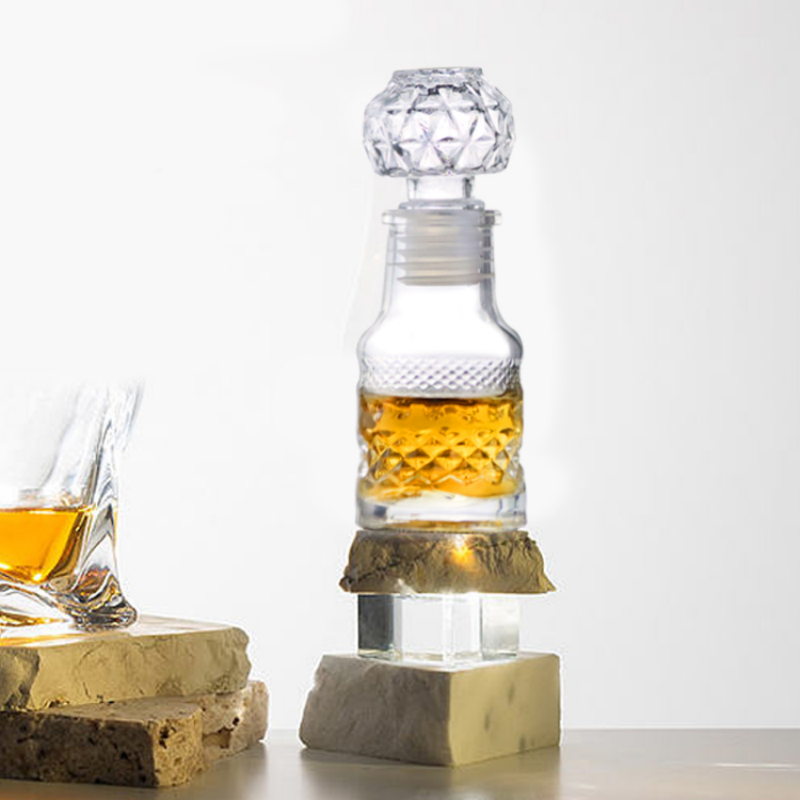 Promotional Giveaways and Events
3.1 Unforgettable Event Swag
Trade shows, product launches, and promotional events require unique and memorable giveaways. Customize glassware like reusable water bottles, shot glasses, or stemless wine glasses with eye-catching designs that incorporate your logo. Attendees will not only appreciate the utility of the item but also become walking advertisements for your brand wherever they go.
3.2 Themed Celebrations
Tailoring your glassware design to match a specific theme can transform an ordinary event into an extraordinary experience. For instance, a company picnic could feature mason jar-style glasses with rustic branding, while a tech conference might showcase sleek, modern designs. Aligning your glassware with the event's theme amplifies the impact of your branding efforts.
Retail and Merchandising
4.1 Collector's Edition
Creating a series of limited-edition glassware can entice customers to collect different pieces, cultivating brand loyalty. Collaborate with local artists or designers to produce unique, artistically inspired glasses. Each design can celebrate a different aspect of your brand's story or highlight a special occasion, making your glassware a coveted item for your customer base.
4.2 Branded Gift Sets
Packaging multiple glassware pieces in a branded gift set can enhance their perceived value and appeal. These sets could include various glass types, such as wine glasses, shot glasses, and cocktail glasses, all adorned with your brand's distinctive elements. These sets make for great retail offerings, corporate gifts, or upscale promotional items.
Trends that Transcend Time: The Evolving World of Custom Glassware
Custom glassware, much like fashion, has its own trends that ebb and flow with time. Keeping an eye on these trends not only helps one stay relevant but also allows for the creation of glassware that resonates with contemporary tastes.
1. Minimalistic Marvels: The allure of simplicity has taken the design world by storm, and custom glassware is no exception. Clean lines, understated elegance, and subtle embellishments define this trend, creating glassware that complements various occasions with grace.
2. Nature's Embrace: Botanical and nature-inspired designs continue to flourish. From delicate leaves to vibrant florals, custom glassware adorned with these motifs brings a refreshing touch of the outdoors to any setting.
3. Vintage Revival: Nostalgia finds its way into glassware design, with vintage patterns and motifs making a strong comeback. These designs evoke a sense of sentimentality and add a touch of old-world charm to modern gatherings.
Customization and Design: Unleashing Creativity through Glass
The allure of custom glassware lies in its potential to reflect personal stories and styles. Etching and engraving techniques grant the glassware a timeless appeal, capturing intricate details that are as enduring as the memories they hold. Xuzhou Cuican Glass Products Co., Ltd employs state-of-the-art technology to etch or engrave designs onto the glass surface, resulting in an elegant, tactile effect that elevates the overall aesthetic.
For those seeking vibrant and intricate designs, printing methods come to the forefront. This technique not only allows for intricate detailing but also opens doors to a spectrum of colors that can truly make the glassware a canvas of art. From delicate floral patterns to bold corporate logos, the possibilities are as expansive as the imagination.
Designing for Impact: Strategies for Effective Marketing
Designing custom glassware for marketing campaigns demands careful consideration. It's not just about adding a logo; it's about crafting an experience. Xuzhou Cuican Glass Products Co., Ltd understands this synergy between design and marketing and provides personalized consultation to clients.
1. Storytelling through Design: Every element on the glassware should tell a part of the brand story. This could be through subtle patterns that represent the brand's values or a design that embodies its journey.
2. Functionality and Usability: A successful marketing glassware isn't just a display piece. It's a functional item that recipients will use. Ensuring its usability ensures that the brand remains a part of everyday life.
3. Consistency in Quality: The glassware should reflect the brand's commitment to quality. Associating with a reputable manufacturer like Xuzhou Cuican Glass Products Co., Ltd guarantees that the glassware not only looks stunning but also stands the test of time.
Conclusion
Custom glassware transcends mere functionality; it's a canvas for brand expression and storytelling. With Xuzhou Cuican Glass Products Co., Ltd as your manufacturing partner, the possibilities are limitless. By tailoring your glassware to align with your business needs, you can captivate audiences, strengthen relationships, and elevate your brand's image. Whether you're aiming for elegance, vibrancy, or thematic resonance, the art of custom glassware can turn ordinary moments into extraordinary brand experiences.