Features Of Glass Honey Jar With Screw Metal Lid
The metal lid is typically screwed onto the jar to create an airtight seal, which helps to keep the honey fresh for a longer period of time. Some honey jars may also have a plastic or rubber gasket around the lid to create an even tighter seal. These jars are often used by honey producers and consumers alike to store and preserve the honey.
The glass honey jar with a screw metal lid is made of food-grade PP material, which is safe for use. It is sturdy enough for a long time using. It can be used for storing honey, oil, and other liquid foods. The capacity of this jar is 1L, which can meet your daily need. The lid of this jar has a tight seal, so it can keep the content fresh and clean.
Specifications Of Glass Honey Jar With Screw Metal Lid
– Material: Glass and metal, glass jar and metal lid
– Capacity: 400ml, 500ml, 600ml or 1000ml
– Color: Clear or frosted glass jar with silver metal lid
– Shape: Round or oval bottle with screw metal lid. It can be made into any shape according to customers' requirements.
Xuzhou Cuican Glass Honey Jar with Screw Metal Lid is a high-quality product made of borosilicate glass. It is designed to be used in storing honey, olive oil, vinegar, and other liquid food products. The jar has a screw metal lid that provides tight sealing and keeps the contents fresh.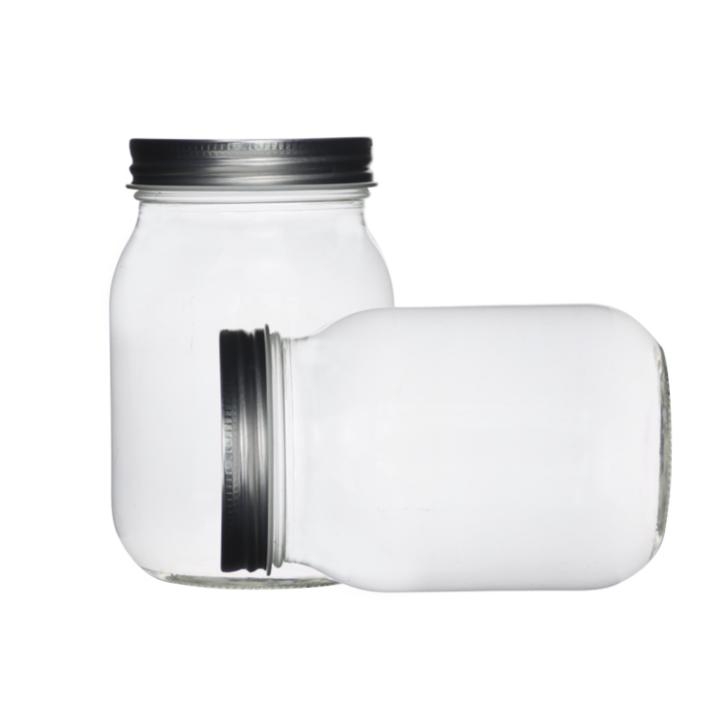 Features Of Glass Honey Jar With Screw Metal Lid
1. Glass honey jar with screw metal lid
2. Colorful and delicate, easy to match with any other necessary items in your kitchen
3. Made of top quality glass, safe and durable enough for long-time using
4. With a practical honey spoon, it is convenient to take honey out of the jar
5. Small size is easy to carry or store
6. Ideal for storing honey, sugar, coffee powder, tea leaves, and so on
Applications Of Glass Honey Jar with Screw Metal Lid
Glass Honey Jar with Screw Metal Lid is one of the best packaging products for honey, food, and other liquid products. It can not only be used for honey packaging but also for many other food products.
This glass honey jar has a metal lid that can be screwed on the upper part of the jar to close it tightly. This metal lid has a hole through which users can pour out honey from the jar. The glass body of this jar is made from high-grade borosilicate glass which makes it sturdy and durable enough to withstand high temperatures.
1. Food Industry:
Honey jars and plastic honey bottles, also called honey pots, are widely used in the food industry, especially in the honey industry. The main function of this honey jar is to store and transport the honey from production to market.
2. Cosmetic Industry:
Cosmetic jars have been used for many years to store cosmetics such as cream, lotion, and shampoo. They also can be used for storing other liquid products like essential oil, nail polish remover, and so on in the cosmetic industry.
3. Chemical Industry:
Chemical storage containers are made of high-quality glass that can resist oxidation and corrosion when they are used under high temperatures or high-pressure conditions. They are widely used in many industries like pharmaceuticals, food processing, electronics, etc., which require high purity levels of materials during the transportation and storage process of chemicals.
4. Pharmaceutical Industry:
Pharmaceutical bottles or vials are made with medical grade polypropylene materials or polystyrene materials (PS) which are strong enough to withstand the pressure in pharmaceutical applications like filling, capping, and closing processes with a variety of closures types (screw cap, flip top cap, etc.).
How To Choose Glass Honey Jar with Screw Metal Lid?
Here are some tips for buying a high-quality glass honey jar with a screw metal lid:
Look For a Jar Made Of Thick And Sturdy Glass.
Thin, flimsy glass is more likely to break or shatter, especially if the honey is stored in a warm or sunny location.
Check The Quality Of The Metal Lid.
A high-quality metal lid will be made of durable material, such as stainless steel, and will have a tight-fitting, secure screw-on design. Avoid jars with lids that are flimsy or easily damaged.
Choose a glass honey jar with a screw metal lid of good quality. The glass should be thick and free from any imperfections or bubbles. The lid should be made from stainless steel to avoid rusting.
Glass is the most popular material for honey jars, but you can also choose ceramic or porcelain ones. If you want your honey jar to be colorful and eye-catching, then you should buy colored ones. However, if you are looking for something more elegant and classic, then white would be an excellent choice.
Look For Jars With a Good Seal.
A good seal will keep the honey fresh and prevent it from leaking or spilling. You can test the seal by screwing the lid on tight and then gently shaking the jar. If the lid stays securely in place, it is likely to have a good seal.
Consider The Size And Capacity Of The Jar.
Honey jars come in a range of sizes, from small containers that hold just a few ounces of honey to large jars that can hold a gallon or more. Choose a size that suits your needs and fits your storage space.
The size of the container should be appropriate for your needs. You can choose a large container if you want to store more honey, while smaller ones are better when you only want to store small amounts of honey at home or work.
The size of the jar depends on how much honey you need to store in it. If you just have a small amount of honey, then there is no need to buy a big jar as it will not only take up a lot of space in your kitchen but also cost more than it should. However, if you have a lot of honey, then it is better to get a bigger one that has enough room for all your products.
Read Reviews And Compare Prices From Different Sellers.
Reading reviews from other customers can give you an idea of the quality of the jar and the experience of others who have purchased it. Compare prices from different sellers to get the best deal.
Why Choose Xuzhou Cuican Glass Honey Jar with Screw Metal Lid?
Xuzhou Cuican Glass Honey Jar with Screw Metal Lid is a high-quality glass honey jar for the food processing industry. It can be used for storing and preserving various liquid food products.
Xuzhou Cuican Glass Honey Jar with Screw Metal Lid is competitive in price, with the best quality and service. It has a screw metal lid that can be opened to fill or take out the contents easily. The glass honey jar also has a rubber gasket on its bottom to prevent leaks and air tightness. Xuzhou Cuican can produce any customized design according to your requirements. Just contact us for more details.
●High Transparency:
Xuzhou Cuican glass honey jar with a screw metal lid has high transparency, so it can let people see clearly what's inside. The transparent look is beautiful and elegant, which can be displayed on the shelf or table for sale.
●Unique Design:
With a unique design, our glass honey jar with a screw metal lid will bring you new feelings when using it. It is also environmentally friendly because it can be recycled and reused repeatedly without any pollution to the environment and human beings.
●Easy Cleaning:
Xuzhou Cuican glass honey jar with a screw metal lid can be cleaned easily in warm water without requiring special cleaning tools or chemicals that may affect your health. If any stains remain after washing, they can be removed by wiping them gently with a soft cloth dipped in warm water to avoid scratching or leaving marks on the surface of the product.
Conclusion
If you are looking for a well-made container to hold your tea leaves, herbs, and spices, then this stylish glass jar is perfect for you. Its screw metal lid keeps the contents tightly in place to preserve freshness, and its durable manufacturing makes it ideal for everyday use.
The product is made of high-grade glass and a high-quality screw metal lid. Glass honey jug is a great combination of beauty and function. Xuzhou Cuican has many types of glass honey jars with screw metal lids that will be your ideal supplier for wholesale glass bottles, glass jars, glass storage containers, and candle holders.