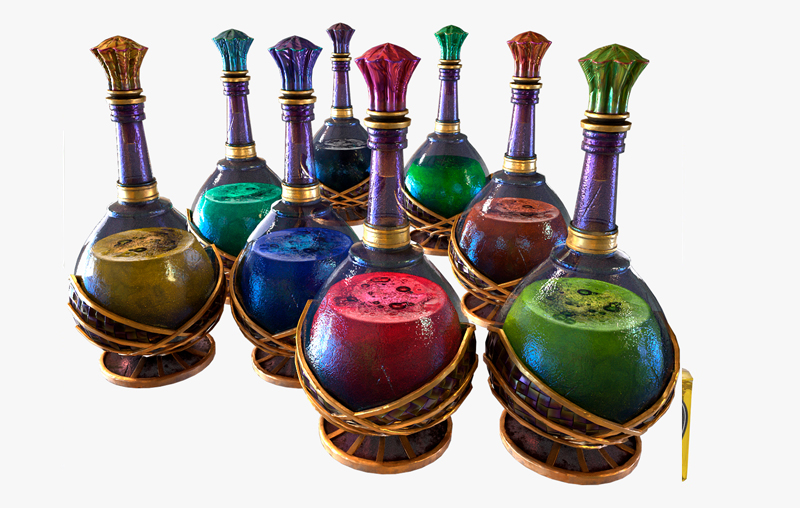 Do you want to make your brand stand out? Do you want to give your customers something to talk about? If yes, then custom glass bottles might be the answer to all your branding and marketing problems. There is no denying that the packaging industry has grown rapidly in the recent years. There are several reasons why it has grown so significantly, but one of them is the increasing demand for premium products among consumers. If you're a business owner or an entrepreneur who is looking for ways to boost the sales of your brand, a set of custom glass bottles can help you get there. However, finding the right manufacturer can be challenging at times. In this blog post, we will walk you through everything you need to know about choosing the best manufacturer for your needs.
What is a Custom Glass Bottle?
A glass bottle is a container designed to hold different types of liquids, such as juices, syrups, oils, and alcohol. Along with its different types, glass bottles can also be available in a variety of sizes and designs. Custom glass bottles can be created in any size, colour, and design to meet your specific needs. Whether you want to give your brand a unique packaging touch or want to preserve your products for a long time, custom glass bottles are the perfect solution. Custom glass bottles are known for their durability, strength, and unbreakable nature. Therefore, they are commonly used for packaging liquids like water, oil, chemicals, and alcohol. These bottles are also used for packaging food items, pharmaceutical products, and other things. A lot of companies use custom glass bottles for packaging their products because of their safety and appearance.
Who is the largest glass container manufacturer in the world?
The largest glass container manufacturer in the world is Owens-Illinois Glass Container. The company has its global headquarters in the United States and has manufacturing facilities in Asia and Europe. The company employs more than 20,000 people in more than 25 countries and is one of the most trusted brands in the packaging industry. The company has been in this business for almost 100 years and has a reputation for producing high-quality glass containers. In addition to glass bottles, the company also produces glass jars, glass jars, glass food containers, and plastic containers. The company's customers include companies in the food and beverage industries, wineries and breweries, foodservice companies, and health and beauty brands.
Who makes glass bottles in the China
As one of the most important countries in the manufacturing industry, China also produces glass bottles for local and international clients. While manufacturers in other parts of the world, such as the US and Europe, produce glass bottles for commercial and industrial use, Chinese manufacturers, on the other hand, produce glass bottles for all commercial use. This includes food and beverage, cosmetic, and pharmaceutical industries. Chinese manufacturers are popular for providing custom glass bottles with attractive designs and logos. You can find several Chinese manufacturers in the international market. While finding the best one for your needs, here are a few things you should keep in mind: Communication – The first thing you need to do is establish a connection with the manufacturer. Communication is important when you are dealing with a Chinese company, as you need to ensure that everyone is on the same page. You'll want to make sure you have a good translation service for any language barriers that may arise.
Why Use Custom Glass Bottles?
Glass bottles are one of the most popular packaging materials. While they are used for many products, they are especially good at protecting and preserving liquids, such as oils, syrups, and other types of liquids. When you use custom glass bottles for packaging your products, you have the option to choose the size and colour of the bottle, which provides you with complete control over the design of your product. The nature of the glass bottle makes it possible to preserve the quality of your products for a long time. The bottle is also unbreakable, which makes it convenient for both the manufacturer and the consumer. If you want to boost your product sales, using custom glass bottles can be a great way to do so.
3 Tips to Find the Best Custom Bottle Manufacturer
Before you start the process of manufacturing custom glass bottles, it is important to find the best manufacturer for your needs. Here are a few tips to help you find the best custom glass bottle manufacturer for your business: Communication – Before you sign up with a manufacturer, make sure you have a strong connection with them. You should be able to communicate your needs and requirements clearly. You should also make it a point to understand the timelines and other aspects of the production process. Experience – It is important that you choose a manufacturer that has been in the business for a long time. Experienced manufacturers have the required skills and expertise to produce high-quality products. If you choose a new manufacturer, they might not be able to meet your expectations. Trustworthiness – You should also make sure that the manufacturer you choose is trustworthy. You can do this by reading reviews and customer feedback. You should also check if they have a history of providing good service.
Conclusion
Custom Medical Glass Bottle are an important part of the packaging industry. They are great for packaging various types of liquids, including water, oil, and alcohol. Additionally, they are available in different sizes and colors. If you want to boost your brand sales, using custom glass bottles can be a great idea. It is important to find the best manufacturer for your needs. This can help you get high-quality products at an affordable price.