This is a glass bottle that you immediately notice no matter where you place it. It's designed with a skull and three-dimensional shapes on the bottle. You can see a glass bottle that looks like a skull! Its clear texture sets off a spooky atmosphere, making it more than just a glass bottle!
As a wine bottle:
If you are looking for the ideal wine bottle to make your party even more special and memorable, then this is certainly an excellent choice for you. This is one of the best gifts for men who love wine and enjoy drinking wine every day with their friends or family members. They will definitely be very happy when he sees this gift because he does not need to drink alcohol from other bottles anymore!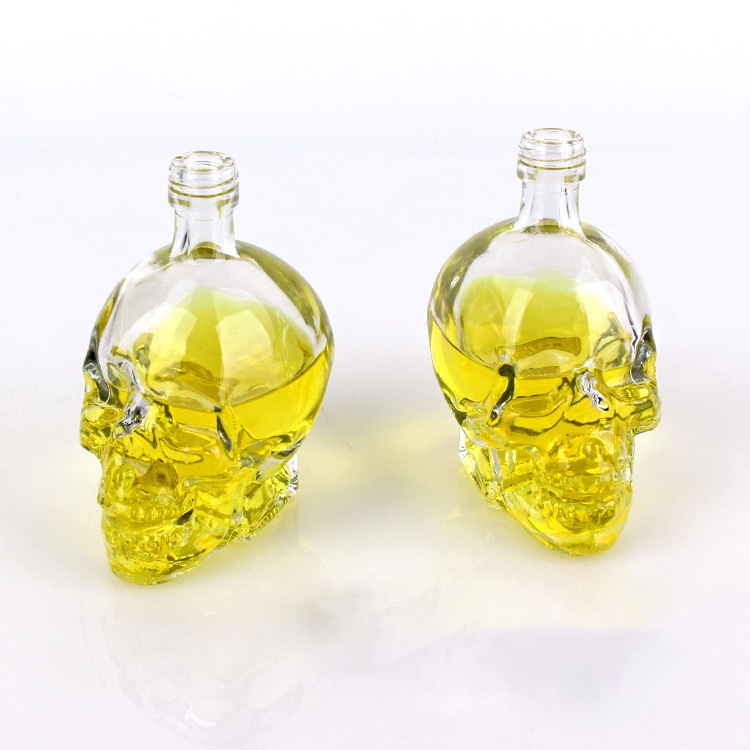 As a decoration:
You can use this as an ornament in your room or at home. The size of bottle is large enough to stand out and look great on any shelf or display case. Plus, the design makes it stand out from other bottles so that it will be noticeable among other decorations. Anyone who sees this will surely want one for themselves or their own home!
As a present:
If you have friends who love wine or spirits, then why not give them something fun like this? This is also perfect for people who love art, culture, and history because they'll be able to show off this unique piece in their homes.
Plus, they'll be able to enjoy drinking alcohol from such an interesting-looking container! If you're looking for something unique that won't break the bank, then definitely consider getting one of these bottles today!
A Skull Glass Bottle Is The Best Choice For Vodka:
Vodka is a very popular alcoholic beverage and the drink of choice for many. It is a clear distilled spirit made from grain or potatoes. So if you're looking to buy a bottle to hold your vodka in, your best bet is a glass decanter. Because the glass is clear and visible, you can see how your favorite vodka flows in the bottle. Here are some features of the 26 oz Skull Vodka bottle:
26oz, ample size for any wine:
The 26 oz Skull Vodka bottle is an ideal choice for any wine. It is large enough to hold your favorite spirits and an ample amount of ice. The shape is very eye-catching, making it the perfect gift for anyone who is into skulls. The bottle comes with a premium screw cap cover that will keep your wine or alcohol fresh and safe.
Moreover, the glass bottle has a wide opening so you can easily pour out the contents without a mess.
Made of lead-free healthy glass:
Made of lead-free, healthy glass, this bottle has no harmful chemicals that can leach into your drink. It does not contain BPA or other phthalates, so you can enjoy your favorite drink without worrying about any side effects from the container.
The shape is very eye-catching:
The 26 oz Skull Vodka bottle will make a great addition to any home bar or kitchen countertop. It looks great in any setting and will make you feel like a true badass when you pour yourself a drink!
Enhance Your Status And Look Cool With The 26 oz Skull Vodka bottle:
If you're looking for a way to stand out from the crowd, then this is the perfect product for you. The 26 oz Skull Vodka bottle will make your friends and family stand up and take notice when they see it on your table at home or in your bar. This unique liquor bottle will make any party a hit!
The cool skull design makes this bottle the perfect gift for any guy or girl who loves vodka. If you're looking for that special gift to give someone who loves vodka, then look no further than this amazing bottle. It's sure to be a hit!
Add value to your wine:
If you are a collector of wine or spirits, you know that they can be quite expensive. Some collectors even have a separate room in their house dedicated to their collection. However, if you're not a collector, but would like to add value to your wines and spirits, this 26 oz Skull Vodka bottle is the perfect way to do so.
Decorate your room with it:
You can also DIY it if you want to make it look even cooler! For example, you can find some stones or seaweed balls that glow at night and put them in this transparent glass bottle.
Then fill it with some colored wine, such as kirsch. This will make your bottle even cooler! Imagine how a glowing red wine bottle would attract attention at Halloween or your friend's birthday party!
Tips For Using Your 26 oz Skull Vodka bottle Safely:
A 26 oz Skull Vodka bottle is a great way to store and serve your favorite spirit. These bottles are made of glass, so you can use them for any beverage that you wish. The bottle has a capacity of 26 fluid ounces, which makes it ideal for serving wine, champagne, or other drinks at parties and events. Here are some tips for using it safer:
Use A Stopper Or Cork To Prevent Spills:
Since this is a glass bottle, you should use a stopper or cork to prevent spills from occurring when handling it. This will also help prevent accidents from happening in case someone bumps into the bottle, causing it to tip over.
Keep It Away From Children And Pets:
Just like any other glassware, the 26 oz Skull Vodka bottle should be kept away from children and pets at all times. You should always make sure that these are out of reach whenever possible. Especially if they are filled with liquid, knocked over at this time may hurt people. If hit hard, it could shatter into pieces, which would be even more dangerous.
Do Not Microwave Or Freeze:
Do not microwave or freeze your 26 oz Skull Vodka bottle as this can cause damage to the bottle. If you want to heat up your beverage, do so in a separate container first before pouring it into the vodka bottle.
The 26 oz Skull Vodka bottle Is Suitable For You:
The 26 oz Skull Vodka bottle can be placed on a wine shelf, tasting room, or distillery as a decoration. When guests come, they will be attracted by this bottle and will ask where they can buy it. The answer is that they can directly buy it from our store!
Bottle Shelf:
It is suitable for you to put it on the wine shelf for display. It will be a great decoration for your house or office. If you have a wine shop, it will be a good choice for you.
Tasting Room or Distillery:
This bottle is designed for tasting rooms and distilleries. These businesses have a high demand for these bottles, as customers like to take them home as souvenirs.
Bar Display Counter:
The 26 oz Skull Vodka bottle is perfect for counter display. It's big and eye-catching, which will attract new customers. This bottle can be placed on the bar counter and showcase your brand name, logo, or slogan to promote your business. It will also be a good choice if you want to sell it at home parties or other events.
Decorative Piece:
You can also use this vodka bottle as a decorative piece if you want to give your home some character and personality! Use it as an accent piece on your coffee table or end table, or just place it anywhere else where people will see it easily. The possibilities are endless when it comes to displaying this unique product!
CUICAN Provides Quality Customizable 26 oz Skull Vodka bottle:
If you want to buy high-quality glass bottles, you can go to CUICAN for customization. They provide high-quality ODM and OEM services to print your own unique mark on your glass bottles.
You can also choose the surface treatment technique you want, such as hot stamping, screen printing, coating, frosting, decal, hot stamping, etc.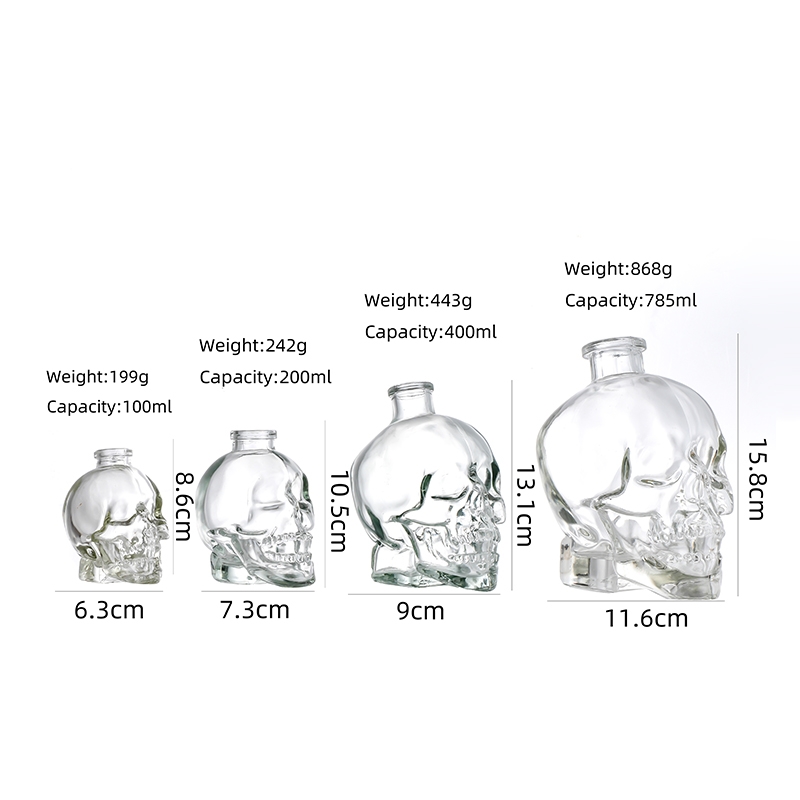 In addition to surface treatment, you can also choose the size of the bottle you need. As long as you have a need, ask CUICAN's professional customer service, and they will give you a satisfactory answer.
If you don't know how to draw drawings, don't worry, they will provide you with professional design drawings.