When it comes to high-end perfume packaging, the Square Clear Glass Wooden Lid Perfume Bottle stands out as a symbol of elegance and sophistication. CUICAN, a renowned company in the industry, has created a masterpiece that embodies the perfect combination of aesthetics, tactile quality, and practicality.
This blog will delve into the exquisite features of these perfume bottles and explore how they are the ideal choice for luxurious packaging in the world of fine fragrances.
The Art Of Designing A Square Clear Glass Wooden Lid Perfume Bottle:
This square clear glass wooden lid perfume bottle is made of high-quality glass raw materials, and customers can choose the glass color they want. Generally speaking, perfumes are volatile, so dark glass will have a better effect, such as black or amber.
Its smooth shape and lines combined with luxurious and natural wooden lid will leave a good impression on every consumer who has seen it.
The Square Clear Glass Wooden Lid Perfume Bottle from CUICAN is the result of meticulous design and craftsmanship. Let's explore the aesthetic and customizable features that make these bottles a true work of art.
Aesthetics at Its Finest:
The mesmerizing cube shape of the square clear glass wooden lid perfume bottle is a testament to modern elegance. With clean lines and a sleek design, it captivates the eye and adds a touch of sophistication to any fragrance collection.
The thick bottom and sides, made from high-quality glass, not only enhance durability but also contribute to the luxurious feel of the bottle, making it a desirable choice for discerning customers.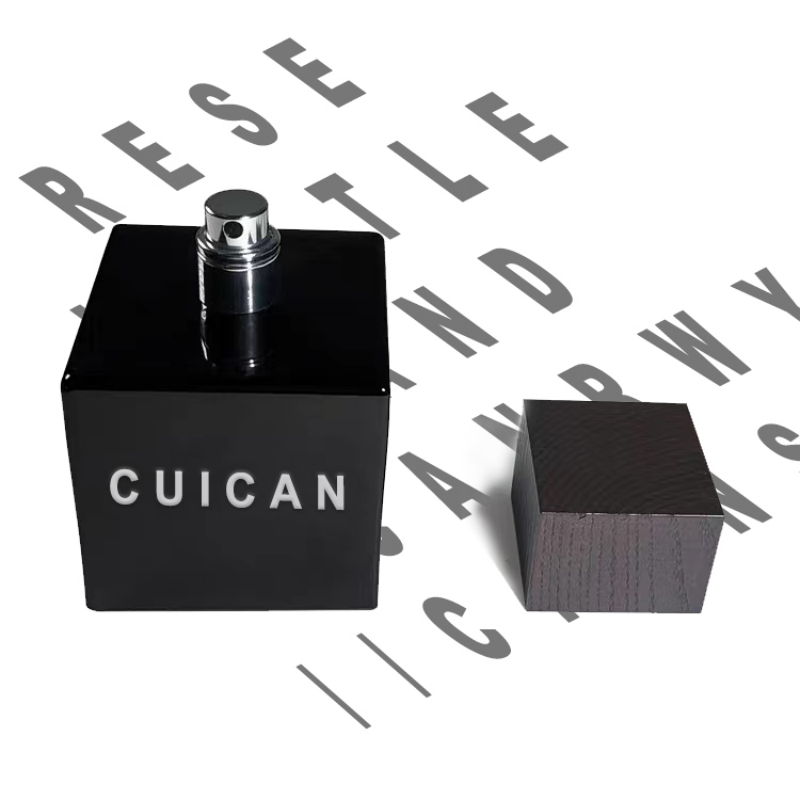 Customization Options for a Distinctive Brand Identity:
CUICAN understands the importance of brand differentiation in the competitive fragrance market. To ensure that each perfume bottle is a reflection of the brand's unique identity, they offer various customization options:
Pump variations:
The choice between plastic crimp and metallic crimp pumps allows brands to tailor the square clear glass wooden lid perfume bottle to their specific preferences and aesthetics. This attention to detail ensures that every aspect of the packaging aligns with the brand's vision.
Color options:
With three available colors for the pump, brands have the freedom to select the perfect shade that complements their fragrance and branding. Whether it's a vibrant hue or a subtle tone, the customizable color options enable brands to create a cohesive packaging experience.
Unique surface finishes:
CUICAN employs various techniques to give the pump a special tone, further enhancing the visual appeal of the square clear glass wooden lid perfume bottle. Whether it's a matte, glossy, or textured finish, these surface treatments add an extra layer of sophistication to the packaging.
Logo and color customization:
CUICAN goes above and beyond by offering logo and color customization options. This means that brands can incorporate their logo and brand colors onto the square clear glass wooden lid perfume bottle, creating a distinct and memorable packaging that resonates with their target audience.
The Perfect Match: Square Clear Glass Wooden Lid And Luxurious Packaging
The Square Clear Glass Wooden Lid adds an element of luxury to the perfume bottle, further enhancing its appeal. Let's explore how this combination elevates the overall packaging experience.
Embracing Luxury: The Square Clear Glass Wooden Lid
To add a touch of refinement, CUICAN has carefully selected a square wooden cap to accompany the square clear glass wooden lid perfume bottle. This wooden lid not only complements the glass body but also brings a sense of warmth and nature to the packaging.
The smoothness and texture of the wooden lid create a tactile experience that adds to the overall luxurious feel, elevating the user's interaction with the product.
Customized Box Packaging:
CUICAN understands that a complete and cohesive packaging experience is essential for luxury brands. Therefore, they offer box customization options to match the elegance of the perfume bottle:
Exquisite packaging:
The perfume bottle deserves to be presented in a box that is as exquisite as the product itself. CUICAN offers customized box packaging, ensuring that the perfume bottle is beautifully housed and protected. From the choice of materials to the design and finishing touches, every detail is carefully considered to create a stunning unboxing experience.
Personalized branding:
The customized box allows brands to reinforce their unique identity and create a lasting impression. By incorporating their logo, brand colors, and intricate designs, brands can create a packaging that aligns with their brand story and captivates customers' attention.
The Essence Of Gifting: A Symbol Of Status And Lifestyle
The Square Clear Glass Wooden Lid Perfume Bottle is more than just a luxurious packaging choice; it embodies the essence of gifting and represents a symbol of status and lifestyle. Let's explore how these perfume bottles are the perfect choice for special occasions and discerning individuals.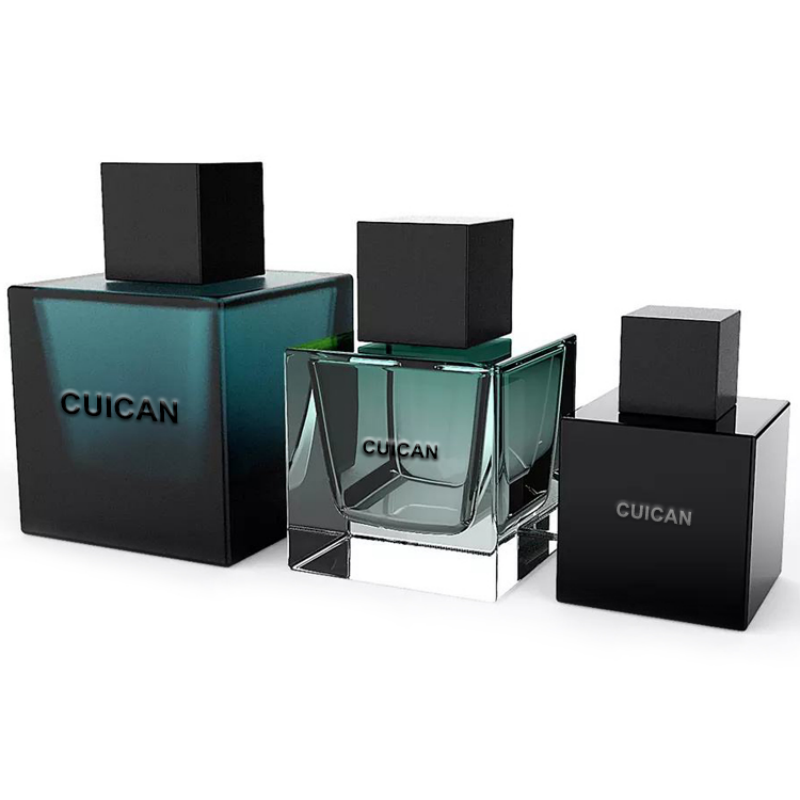 Unveiling the Perfect Gift:
A set of Square Clear Glass Wooden Lid Perfume Bottles makes for an exceptional gift. The luxurious packaging elevates the gifting experience, turning it into a memorable and cherished moment. The recipient will be captivated by the elegance and sophistication of the perfume bottles, making it an unforgettable surprise.
Symbol of Status:
Owning and presenting these exquisite square clear glass wooden lid perfume bottles is a statement of prestige and sophistication. The Square Clear Glass Wooden Lid Perfume Bottle embodies luxury and refinement, making it the ideal choice for those who appreciate the finer things in life. By owning such a prestigious item, individuals can showcase their discerning taste and elevate their status among their peers.
Final words:
In the world of high-end perfumes, the Square Clear Glass Wooden Lid Perfume Bottle by CUICAN reigns supreme. From its captivating cube shape and customizable features to the luxurious wooden lid and bespoke packaging options, every element is carefully crafted to exude opulence and sophistication.
Elevate your fragrance line and captivate your audience with this remarkable perfume bottle, a true masterpiece in luxurious packaging.
With CUICAN's commitment to quality and attention to detail, you can trust that their Square Clear Glass Wooden Lid Perfume Bottles will enhance the allure of your fragrance, leaving a lasting impression on discerning customers.