Perfumes hold the power to captivate our senses and define our presence. The allure isn't just within the fragrances themselves, but also in the vessels that contain them. Enter the realm of glass perfume bottles, where aesthetics and functionality unite to create an experience that's both luxurious and personal. In this article, we delve into frequently asked questions about glass perfume bottles, using the Pink Rectangular Perfume Bottle as a prime example.
1. What Makes Glass Perfume Bottles Stand Out?
Glass perfume bottles, like the Pink Rectangular Perfume Bottle, are a symphony of beauty and practicality. Crafted with precision from high-quality glass, these bottles offer a touch of elegance that plastic alternatives simply can't match. The smooth, glossy surface not only showcases the fragrance within but also adds a sophisticated charm to your perfume.
2. What Are the Options in Terms of Size and Color?
Variety is the essence of choice, and glass perfume bottles come in a plethora of sizes and colors. The Pink Rectangular Perfume Bottle, for instance, is available in 30ml and 50ml sizes. Moreover, it can be customized to align with your preferences. From classic black and blue to vibrant red and pink, the spectrum of color options is boundless.
3. What Sets the Pink Rectangular Perfume Bottle Apart?
This bottle's uniqueness isn't just skin-deep. Its square shape distinguishes it from the typical curves of perfume bottles, giving it a contemporary edge. The crimp mouth sealing method ensures the secure containment of your cherished fragrances. Its compatibility with both essential oils and fragrance oils makes it versatile for various scents.
4. How Durable Are These Glass Perfume Bottles?
Quality is a paramount consideration, especially when dealing with fragrances. The Pink Rectangular Perfume Bottle boasts durability as one of its virtues. Crafted from premium glass, it's designed to withstand the effects of essential and fragrance oils without compromising the integrity of the container. This resilience guarantees that your precious scents are preserved with utmost care.
5. Are Glass Perfume Bottles Eco-Friendly?
Sustainability finds its way even into the world of perfumery. The Pink Rectangular Perfume Bottle, being reusable, contributes to minimizing plastic waste. By investing in a glass bottle that endures, you're not only elevating your fragrance game but also participating in a more environmentally conscious approach.
6. How Can I Get My Hands on These Exquisite Bottles?
The Pink Rectangular Perfume Bottle, exemplifying elegance, and functionality, can be procured from Xuzhou Cuican Glass Products Co., Ltd. As a prominent glass perfume bottle manufacturer, they offer a wide array of choices to meet your needs. Their dedication to quality and customization ensures a delightful shopping experience.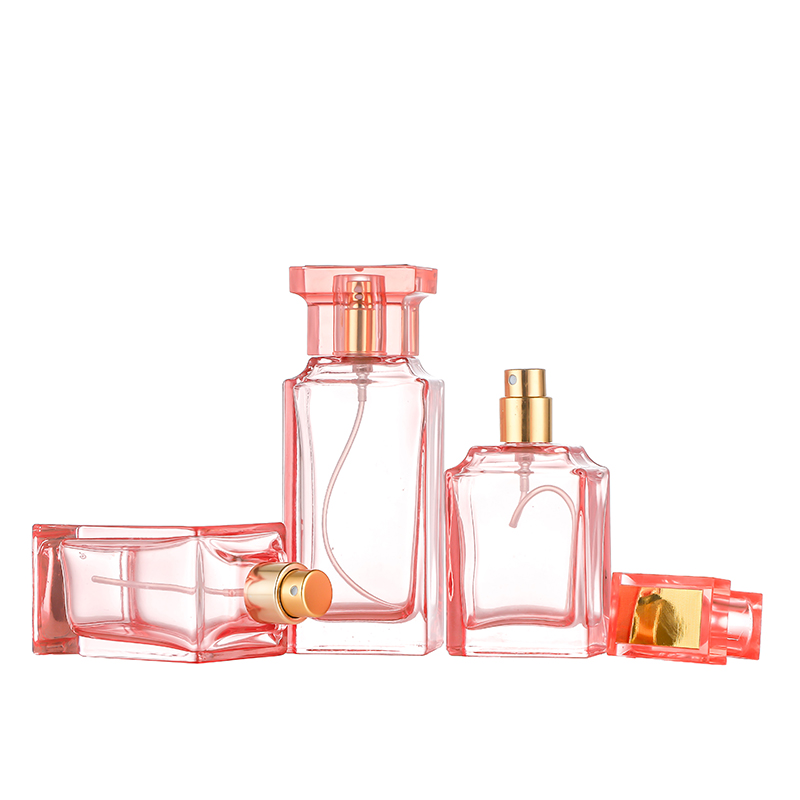 7. What's the Shipment Process?
Xuzhou Cuican Glass Products Co., Ltd offers various shipment options for your convenience. Whether you prefer sea, air, express, rail shipment, or door-to-door service, they've got you covered. This flexibility ensures that your chosen perfume bottles reach you seamlessly.
8. How to Get Your Hands on the Pink Perfume Bottle?
Acquiring the Pink Perfume Bottle is just a click away. With various options for customization, and low minimum order quantities starting at 5000pcs, it's accessible to both individuals and businesses looking to elevate their fragrance game.
9. What Makes Xuzhou Cuican Glass Products Co., Ltd Stand Out?
When searching for a reliable glass perfume bottle manufacturer, Xuzhou Cuican Glass Products Co., Ltd shines as a prominent choice. With years of experience and a dedication to quality, they have earned a reputation for producing exceptional glassware. Their commitment to precision and aesthetics ensures that their products reflect elegance and sophistication.
10. Why Choose Glass Perfume Bottles Over Other Materials?
Glass perfume bottles have long been favored for their timeless beauty and ability to preserve fragrances. Glass is impermeable, preventing the escape of volatile fragrance molecules, thus maintaining the integrity of the perfume. Additionally, glass offers design versatility, allowing for intricate detailing and customization, which adds to the overall appeal of the product.
11. Packaging and Design: A Symphony of Innovation
Packaging plays a crucial role in the world of perfume bottles. It is the first interaction a customer has with the product and sets the tone for their experience. Xuzhou Cuican Glass Products Co., Ltd understands this significance and offers packaging designs that align with the essence of the perfume. From minimalist to ornate, their packaging options cater to diverse preferences and capture the attention of potential buyers.
12. What Packaging Trends and Innovations Should You Look For?
Keeping up with packaging trends is essential to stay relevant in the competitive world of perfumery. Xuzhou Cuican Glass Products Co., Ltd keeps a finger on the pulse of these trends, offering packaging innovations that blend functionality and aesthetics. Look out for sustainable packaging solutions, intricate detailing, and interactive elements that engage customers on a deeper level.
13. How Can Businesses Acquire Bulk Glass Perfume Bottles?
For businesses seeking to acquire bulk glass perfume bottles, Xuzhou Cuican Glass Products Co., Ltd offers a seamless process. Their customer-oriented approach ensures that you receive personalized solutions tailored to your brand's needs. From selecting the right bottle design to choosing the perfect packaging, their team guides you every step of the way, making the bulk purchasing experience efficient and enjoyable.
Conclusion: Elevate Your Perfume Experience with Glass Perfume Bottles
The Pink Rectangular Perfume Bottle serves as a testament to the fusion of beauty and practicality. Its square shape, vibrant colors, and reusable design make it a true embodiment of elegance and sustainability. From its durability to its compatibility, this bottle checks all the boxes for a fragrance connoisseur seeking both style and substance. So, indulge yourself in the world of glass perfume bottles and add a touch of glamour to your everyday routine. Your fragrance journey awaits! Connect with Xuzhou Cuican Glass Products Co., Ltd to bring this elegance into your life.