Are you a business owner looking to make a bold statement with your beverage packaging? Or perhaps an individual in need of a stylish and sustainable way to carry your favorite drinks? Look no further than the Wholesale Frosted Clear Glass Round Drink Bottle with Tinplate Cap. In this blog, we'll delve into the features, benefits, and opportunities for bulk purchasing this exquisite glass bottle.
Promotional marketing with Frosted Clear Glass Round Drink Bottles presents an opportunity to captivate your audience's attention while showcasing your brand's values. As a versatile tool for creative marketing strategies, these bottles can transform into cherished keepsakes for recipients. In the realm of bulk purchasing and wholesale, these glass bottles don't just hold beverages; they hold the promise of brand elevation and unforgettable experiences. Contact Xuzhou Cui Can Glass Products Co., Ltd, and start crafting your promotional journey today!
Introducing the Round Glass Beverage Bottle
The Round Glass Beverage Bottle from Xuzhou Cuican Glass Products Co., Ltd is a true embodiment of elegance and practicality. Crafted from high-quality glass, this bottle boasts a sleek frosted finish that exudes sophistication. Available in multiple sizes – 155ML, 295ML, 355ML, and 505ML – this versatile container caters to various occasions, making it perfect for both personal and business use.
Features That Make a Difference
1. High-Quality Glass: The glass used in crafting these bottles is not only visually appealing but also antitoxic, refillable, and heat-resistant. This ensures your beverages remain safe and maintain their desired temperature.
2. Screw Tinplate Cap: The round shoulder and screw tinplate cap combination offers a secure seal, preventing leaks and preserving the freshness of your beverages.
3. Customization Options: From logo customization to sticker applications, these bottles can become a unique representation of your brand, making them an excellent choice for businesses looking to stand out.
4. Wide Range of Uses: Whether you're a beverage company looking for a striking packaging solution or an individual wanting to carry DIY fruit juices, this glass bottle caters to a multitude of needs.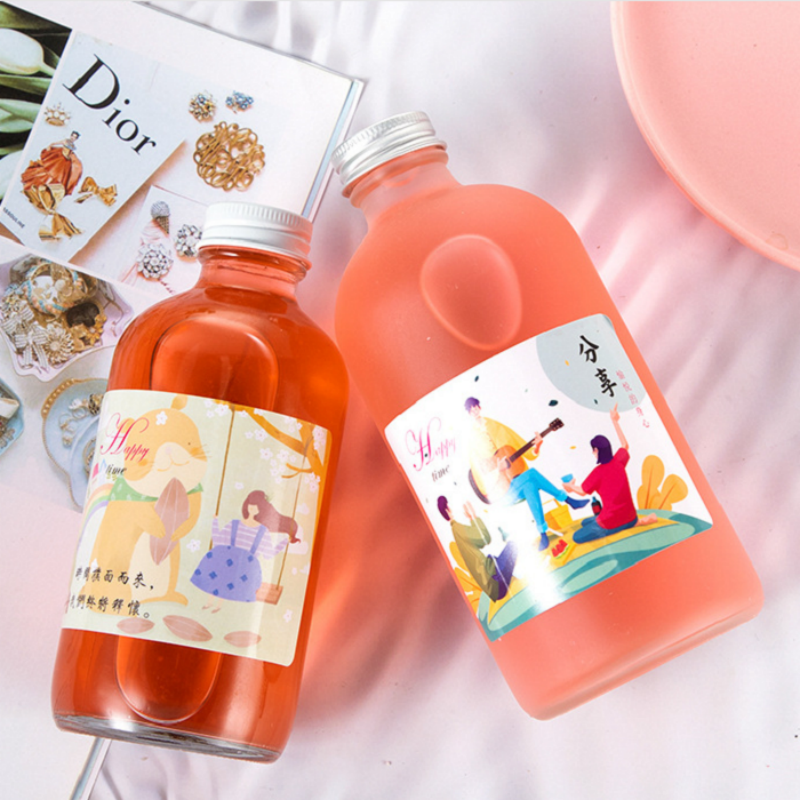 Why Consider Bulk Purchasing and Wholesale?
Bulk purchasing and wholesale procurement have several benefits, particularly when it comes to glass bottle products. Here are a few reasons to consider:
1. Cost Savings: Buying in bulk often results in significant cost savings per unit, making it an economically sound choice for businesses and individuals alike.
2. Consistency: When you're looking to create a consistent brand image or offer uniform products, purchasing in bulk ensures that all your items match in quality and appearance.
3. Negotiating Power: Buying larger quantities provides you with more negotiating power when dealing with suppliers, potentially leading to better deals and terms.
4. Convenience: Having a surplus of products on hand ensures you're always ready to meet customer demands without worrying about restocking frequently.
Endless Possibilities: Creative Marketing Strategies
1. Branded Gifts for Corporate Partners:
Imagine gifting these elegant Frosted Clear Glass Round Drink Bottle with your brand logo to corporate partners. It's a thoughtful gesture that aligns with your brand's premium image and emphasizes your commitment to quality.
2. Event Souvenirs with a Twist:
Hosting an event? Hand out these glass bottles as event souvenirs, each carrying a memory of the occasion. Add a personalized touch by customizing the bottles with event details.
3. Social Media Giveaways:
Run engaging social media campaigns where participants have a chance to win these exquisite glass bottles. Encourage users to share their creative beverage recipes or how they plan to use the bottles.
4. Loyalty Program Rewards:
Reward loyal customers with these bottles. Whether it's a milestone purchase or consistent engagement with your brand, these bottles make for memorable rewards.
5. Collaborative Marketing:
Partner with influencers or local businesses to cross-promote. Collaborative marketing can introduce your brand to a wider audience, and these glass bottles serve as enticing collaboration products.
About Xuzhou Cuican Glass Products Co., Ltd
Xuzhou Cuican Glass Products Co., Ltd is a distinguished player in the glass products industry. With a commitment to innovation and quality, their glass bottles have become synonymous with elegance and functionality. Boasting modern facilities and advanced equipment, the company's annual production output is a testament to its dedication to excellence.
1. Behind the Craftsmanship: Xuzhou Cui Can Glass Products Co., Ltd
Behind the elegance of these bottles stands Xuzhou Cui Can Glass Products Co., Ltd, a pioneering company based in Jiangsu, China. With a sprawling 20,000-square-meter facility equipped with cutting-edge equipment, this company is a testament to innovation and quality. Their annual output of 300 million pieces attests to their dedication to crafting exceptional glass products.
2. Frosted Clear Glass Round Drink Bottle: Your Brand, Elevated
In the realm of promotional marketing, the Frosted Clear Glass Round Drink Bottles stand as a symbol of elegance, creativity, and functionality. These bottles aren't just vessels for beverages; they're vessels for your brand's essence. With customization options, technical excellence, and a partner like Xuzhou Cui Can Glass Products Co., Ltd, the stage is set for your brand to shine brighter than ever.
In Conclusion
The Frosted Clear Glass Round Drink Bottle is more than just a container; it's a statement piece that combines aesthetics, utility, and sustainability. With options for bulk purchasing and customization, businesses and individuals can take advantage of this opportunity to elevate their brand and enjoy a high-quality packaging solution. If you're seeking a beverage bottle that's both visually stunning and functional, look no further than Xuzhou Cuican Glass Products Co., Ltd. Your brand's story is waiting to be etched onto these elegant glass canvases.
So, if you're seeking a promotional item that transcends the ordinary, look no further. Embrace the Frosted Clear Glass Round Drink Bottles and witness your brand's narrative come to life, one sip at a time.