Fine spirits are best enjoyed in a glass designed to enhance the flavor of the drink, and one of the most popular types of glasses for this purpose is the whiskey glass. Today, we delve into the allure of whiskey glass wholesale, exploring the unique charm of a 180ml twisted masterpiece, crafted to elevate your drinking experience.
Wholesale Whiskey Glass: Craftsmanship and Distinctive Design
Imagine a glass that captures the essence of your favorite libation, holding within its delicate confines the history, flavor, and craftsmanship that define the world of spirits. Our whisky glasses, meticulously crafted by Xuzhou Cui Can Glass Products Co., Ltd, embrace the artistry of glassmaking. Made from lead-free sodium calcium glass, they not only exhibit transparency but also come in an array of captivating colors. The thickened bottom ensures durability and wear resistance, while the crystal-clear body showcases the drink with unmatched elegance.
But what truly sets these glasses apart is their twisted shape. An embodiment of the unique design, it effortlessly adds a touch of sophistication to every sip. Whether you're pouring fine whiskey, velvety vodka, zesty lemonade, robust coffee, or any other cherished beverage, the glass elevates the experience.
Wholesale Whiskey Glass: A Symphony of Features
This whiskey glass wholesale isn't just vessels; they're masterpieces enriched with features that elevate the drinking ritual. The electroplating process not only enhances the aesthetic allure but also ensures the colors remain vibrant over time, withstanding the test of countless toasts. The glasses are resilient, capable of withstanding thermal shock up to an impressive 41 degrees and maintaining their structural integrity even at temperatures as high as 120 degrees.
With an Anti Shock rating of ≥ 0.7, these glasses are built to withstand the energy of your celebratory clinks. Importantly, they meet stringent industry standards, contain no harmful elements like As and Pb, and are free from pathogenic bacteria, making them a safe and reliable choice for all your drinking pleasures.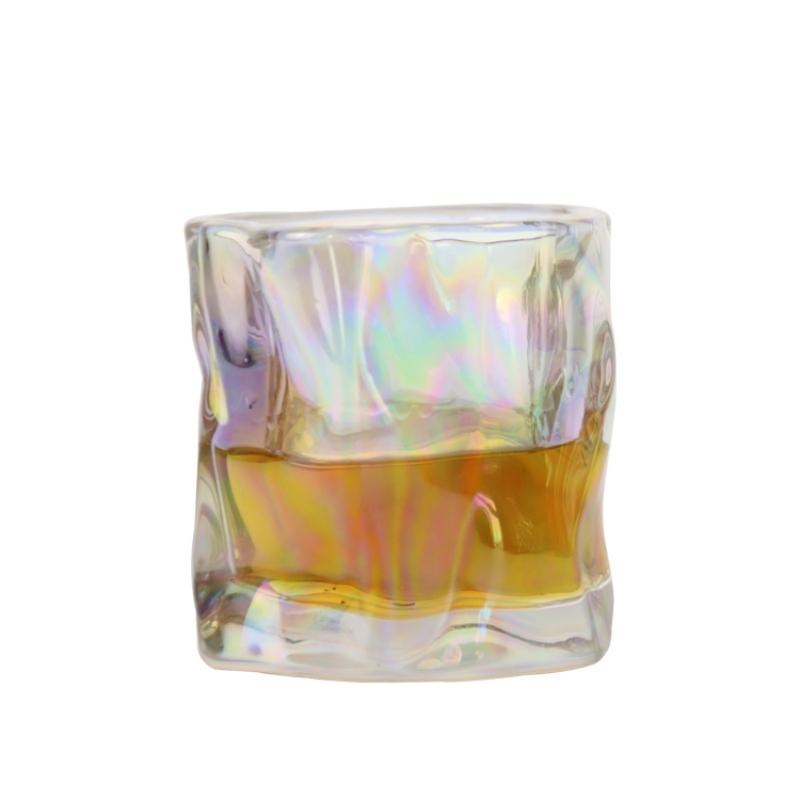 Wholesale Whiskey Glass: Exceptional Wholesale Services
Xuzhou Cui Can Glass Products Co., Ltd, located in Jiangsu, China, is the visionary behind these exceptional glasses. With a sprawling facility spanning 20,000 square meters and equipped with 10 production lines, their commitment to excellence is evident. They boast an annual output of 300 million pieces and 150 thousand tons of glass products, reflecting their dedication to providing the best.
Their services go beyond crafting exquisite glassware. They offer professional glass painting, printing, hot stamping, and polishing services. With a rapid supply capacity of up to 1,000,000 pieces per day, they stand as a reliable partner for businesses seeking the epitome of glass craftsmanship.
Wholesale Whiskey Glass: Embrace Elegance
In a world where every sip is an experience, every moment is an opportunity to revel in luxury. Wholesale whiskey glass cups from Xuzhou Cui Can Glass Products Co., Ltd, are an embodiment of sophistication and quality. With a unique twisted design, impeccable craftsmanship, and a commitment to excellence, these glasses are more than vessels; they're conduits to a realm of refined indulgence.
From the depths of rich mahogany hues to the golden amber tones of a fine whiskey, these glasses mirror the beauty of the spirits they hold. If you seek to elevate your spirits – both metaphorically and literally – then these glasses are the perfect companions.
Your Whiskey Glass Wholesale Partner: Xuzhou Cui Can Glass Products Co., Ltd
1. Reasonable Price and Unparalleled Value
In the world of business, every dollar saved counts. Cuican Glass understands this, and that's why their reasonable wholesale prices are turning heads across the industry. Compared to both domestic and foreign competitors, their prices stand out as remarkably affordable. What's even better is that they offer corresponding discounts based on the quantity you purchase. So, whether you're stocking up for a special event or for your business needs, Cuican Glass provides both quality and savings.
2. Commitment to Quality and Service
With a global footprint spanning more than 30 countries, Cuican Glass has proven its dedication to delivering top-tier quality glass containers. Their products are not just visually appealing; they're also certified and designed to meet stringent standards. Whether you're in the USA, Africa, Europe, or anywhere else, Cuican Glass's commitment to excellence shines through, ensuring that you receive glass containers that exceed expectations.
3. Prompt Delivery: From Production to Your Door
Time is of the essence, and Cuican Glass recognizes that. Their fast delivery time is a testament to their efficiency and dedication to customer satisfaction. From the moment a glass container is produced, you can expect it to arrive at your doorstep within a maximum of 14 days. This commitment to prompt delivery ensures that you can get your hands on the glassware you need exactly when you need it.
4. Innovative Technologies for Premium Glassware
Cuican Glass's commitment to innovation sets them apart. They've harnessed technologies like hot-end steam coating, cold-end spray coating, and advanced silicon-enriched treatment to ensure their glassware not only looks stunning but also maintains its quality over time. With 11 workshops and 30 assembly lines, Cuican Glass boasts an annual production output of up to a staggering 300 million pieces (150,000 tons). Their versatility extends to glass processing too, with offerings like decals, printing, sandblasting, engraving, gold drawing, and color spraying.
5. Diverse Product Range: From Borosilicate to Soda-Lime-Silica
Cuican Glass prides itself on its diverse product range, spanning borosilicate glass, soda-lime-silica glass (clear glass, over clear glass, and crystal glass), and more. The use of borosilicate glass ensures exceptional temperature resistance, making it ideal for a range of applications. With over a decade of experience in importing and exporting, Cuican Glass has garnered a strong reputation worldwide, with products distributed to over 20 countries and regions, including the USA, Africa, Europe, and more.
Conclusion
The 180ml unique twisted shape wine whisky vodka glass cup from Xuzhou Cui Can Glass Products Co., Ltd exemplifies the harmonious blend of aesthetics and functionality. Whether you're an individual looking to enhance your drinking experience or a business seeking affordable and premium glassware options, this whiskey glass wholesale is an excellent choice. Elevate your moments of relaxation, celebration, and enjoyment with these exquisite glasses that are a true testament to craftsmanship and innovation. With their commitment to quality and innovation, Xuzhou Cui Can Glass Products Co., Ltd is your go-to destination for premium glassware.
For more information, inquiries, or to place an order, contact:
Xuzhou Cui Can Glass Products Co., Ltd
Website:https://www.packafill.com/low-price-wholesale-180ml-unique-twisted-shape-wine-whisky-vodka-glass-cup/
Email: sherry@glassbottleproducer.com
Phone: +86 186 0568 5636