What Is The Gradient Glass Bottle Wholesale?
What is the Gradient Glass Bottle?
In 1858, John Landis Mason invented a new type of glass jar. He was inspired by a customer's request for a container that would help preserve fruits and vegetables. He made mason jars by hand, creating the first ones with a metal lid and ring. The customer loved it and soon other people started asking for them too. Today, mason jars are still used for storing food items like salad dressing or sauces, but they're also popular as decorations in homes.
Today you can buy gradient glass bottle wholesale at CUICAN at a good price, this is Mason Jars With Handles with gradient colors.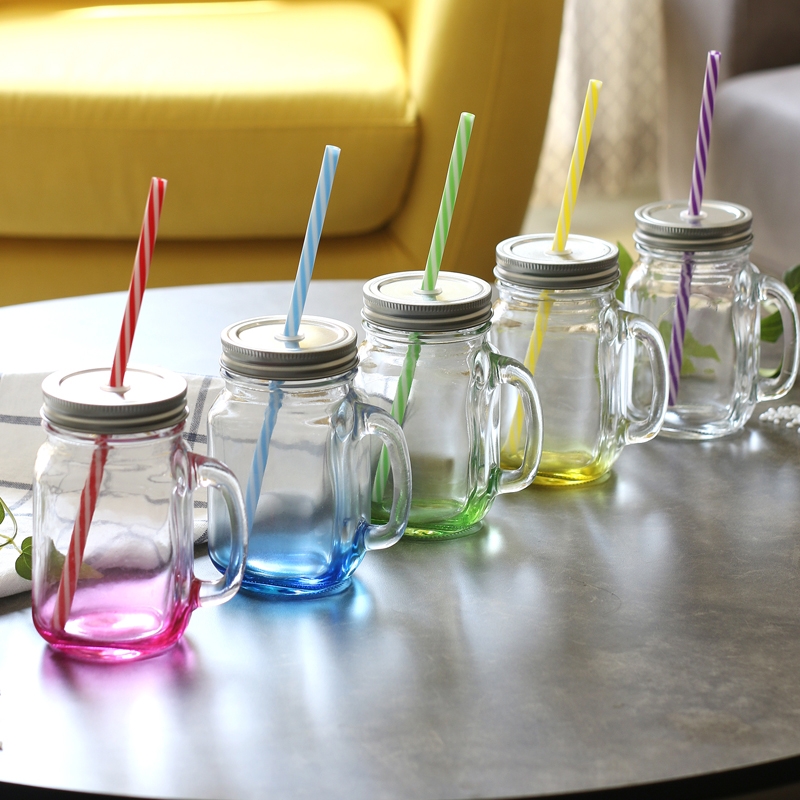 Gradient glass bottles are usually made of glass and have an opaque base color with a transparent color on the top half. The gradient effect is achieved by adding different amounts of colored glass chips into the bottom half of the bottle during production. This allows you to create a custom look for your product through different colors and shapes of glass chips.
The concept of gradient glass bottles is quite simple: they are made using different colored glass that changes color depending on how much light hits it. These bottles are often used for storing liquids like wine, beer, or water but they can also be used as gifts if you want to give something special to your customers or friends. They are great for parties and other events when you want to serve drinks that look good and taste great too!
The Difference Between Gradient Glass Bottle And Other Bottles:
The gradient glass bottle is a kind of glass bottle with beautiful gradients. The use of gradient glass bottles can change the color of the liquid inside, which makes it more attractive. This type of bottle is widely used in cosmetics, health care products, food processing industries, etc. And, if you use it as a bonus cup for drinks, customers will love it!
This bottle is so different from other bottles, you can tell it at a glance. Here are some unique features of this bottle:
The bottle is made of thick glass, very textured, which is different from other bottles. This kind of texture makes the bottle look more fashionable and unique.
This bottle has a wide mouth for easy pouring of beverages. The cap has a straw mouth, so you can drink easily by putting your mouth on the straw. The cap also has a flip lock design, which makes it convenient for carrying around anywhere you go.
The bottle is beautiful and colorful, which makes it easy to get attention from customers when they see it in your shop or store. It's perfect for gifts for customers or giveaways at events like festivals or parties!
Features Of Gradient Glass Bottle Wholesale By CUICAN:
As a glass bottle manufacturer with more than 10 years of production experience, CUICAN has rich experience in gradient glass bottle wholesale. They can provide bottles made of high-quality glass, but they are also happy to provide customers with customized services.
Therefore, the glass bottles produced by their family are very suitable for the owner of the beverage store as a gift for customers! The following are the characteristics of the glass bottles produced by their company:
Quality material:
The materials used in their products are high-quality soda lime glass and lead silicate glass. This kind of material is not only strong enough to withstand pressure and stress during transportation but also has good insulation properties. So it can protect the drink from external factors such as temperature changes or light penetration during transportation and storage processes.
Good sealing:
CUICAN's mason jars come in two parts: a lid with a rubber ring on the bottom, which creates a vacuum seal. This is an integral part of safe canning. The other part is a threaded reusable takeaway lid. This lid is best used only once, but you can use the jar itself again and again.
Customized designs:
Customized designs are available for the gradient glass bottle wholesale produced by their company. The company can design the bottles according to your requirements, including colors, logos, and shapes. They will be very happy to meet your needs!
Environmental protection:
The plastic materials used by CUICAN have been tested by SGS and passed the test successfully. It has been proved that these plastics do not contain harmful substances such as BPA, DEHP, and Phthalates, which can cause harm to people's health!
Can Gradient Glass Bottle Be Reused?
The answer is of course you can! However, please don't reuse its cap!
It is made from food-grade BPA-free glass, so it can be recycled. You can reuse this glass bottle for a long time. In fact, you will just need to wash it with water and soap if necessary, which is not a lot of work to do.
The gasket compound in the used lid may not seal tightly to the jar. This may allow some air to enter your food, and the air may contain some bacteria or viruses. This may make food unsafe. So, if you want to reuse the bottle, don't use the same cap all the time. CUICAN's new gaskets are designed to soften and flow slightly during machining to cover the sealing surface.
Nice Gifts For Customers: Gradient Glass Bottle Wholesale
If you are the owner of a coffee and beverage store, your customers browse your store on the Internet and find that your coffee is good. But in the end, he chose another shop. Do you know why? Possibly just because the other one would send him a mug!
Such as coffee or tea are products that you don't know how they taste without tasting them. If your products are good, you really don't have to worry about losing old customers. However, you need some extra sweetness to attract new customers! These customers have not drunk your coffee or tea and can only be determined by pictures, videos, and other buyers' reviews. At this time, a beautiful gradient glass bottle will definitely catch their eyes!
Therefore, buying gradient glass bottle wholesale will make your products stand out in a similar market with increasingly serious homogeneity! Because it adds extra value to your product and increases consumers' goodwill toward your store.
Plus, you can create even more value by giving these bottles to customers as gifts. For instance:
As a marketing tool for your company:
You can use these bottles as part of your marketing campaign by giving them away as giveaways at events and trade shows. This will help you connect with potential customers and give them something they can keep as a reminder of your company name and logo.
Promote an event or occasion:
You can also use these bottles to promote an event or occasion in your local community. For example, if you have an upcoming fundraiser and want to promote it to people in your area, you could give out these bottles at local stores and grocery stores. Customers will know about the fundraiser and may even donate some money to help out with it.
Increase consumer favorability:
Even if a customer has not used your product before, they will still remember it if they receive one of these bottles as a gift. This is because it's something that they can keep around their house forever. When the time comes for them to buy something else from your company, they may be more likely to choose one of your products over others.
Quality Gradient Glass Bottle Wholesale From CUICAN:
You can customize the gradient glass bottle wholesale you need in CUICAN. In CUICAN, you will find that glass bottles can be so beautiful! They have professional production equipment, a strict quality inspection process, and professional OEM and ODM services!
1. Customized gradient glass bottles with different colors and sizes are available here at CUICAN. You can select your favorite color to make your own custom gradient glass bottle!
2. The best quality of gradient glass bottles is that they are very elegant and classy-looking. You will be impressed by how beautiful they are when you see them at first sight!
3. We use high-quality material for this kind of product, so it is safe for food use and environmental protection as well.