What Are The Mini Spirit Bottles? What Are The Features Of These Bottles?
Mini Spirit Bottles are small bottles that can be used for storing spirits, oils, and other liquids. They have a wide mouth and are made of high-quality glass. You can use them for storing your favorite alcohol or essential oils. The bottle has a tight seal which keeps the liquid safe from spilling or leaking out when it is being transported.
In CUICAN, these mini spirit bottles have an elegant shape, and you can customize any capacity you need, from 95ml to 250ml, etc. Here is a brief introduction to these mini spirit bottles: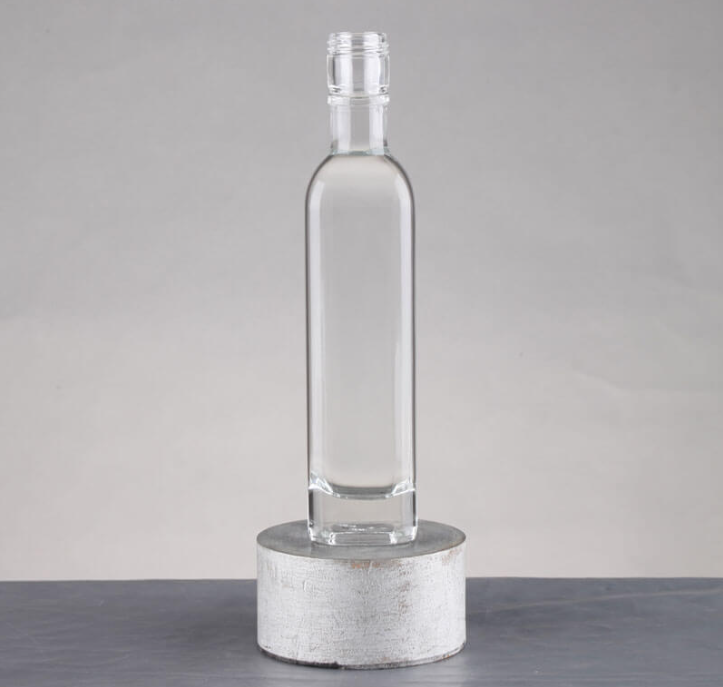 Material: Lead-free crystal white glass
It is made of high-quality lead-free crystal white glass. This material is ideal for storing spirits. It is durable and will not break or crack easily. It also does not absorb odor or flavor from the liquid inside it. This makes it easy to clean and maintain the bottles.
Cap (optional): Screw cap/cork Cover/stopper
Delicate, clear, and easy to use. You can customize the cap with your logo or any other design that you want. CUICAN will provide you with a food-grade screw cap to use with the mini spirit bottle. It is more airtight and won't leak wine easily.
Neck and mouth:
The neck is thick enough so it will not break easily when dropped on hard surfaces. Wide mouth for easy filling and pouring. If you want other shapes or shapes, you can send your design drawings to CUICAN, and they will be happy to customize these bottles for you.
Bottom design: non-slip thread design
It is designed to prevent the bottle from slipping when it is placed on a flat surface. This design is especially important for those who are going to use their mini spirit bottles as wedding favors or gifts. It makes them more user-friendly and easier to carry around.
Size and color: all can be customized
The mini beer bottles can be customized in terms of size and color. You can choose the size that suits your needs, including 100ml and 200ml bottles. They are all available in different colors; you can pick from a variety of options depending on your preferences.
The Smaller Mini Spirit Bottles, The Better Way To Advertise Your Business:
The mini spirit bottles are a great way to promote your business. They provide a cost-effective and portable way for you to showcase your products and services. The mini spirits bottle can be used as a sample or giveaway at trade shows and other events, or even as a gift for customers.
This is why many companies choose to use mini spirit bottles in their marketing campaigns. Here are some of the benefits it offers:
Get more exposure:
One of the best things about these small bottles is that they are so easy to customize with your own imprinted designs. You can put your logo or message on them with ease using a laser engraving machine or by using stickers and labels.
You can even create custom labels with photos or images that represent your company or product. This makes it easier for people to remember what they saw when they see it again later on down the road.
Let more people taste your commercial wines:
As mentioned at the beginning of the article, letting new customers try your new product may be the first step toward success. The mini spirit bottles are a great way to get your brand out there. They're small enough to fit in most purses, backpacks, and even pockets.
The mini spirit bottles are perfect for anyone who loves to try new things or wants to sample something before buying a bottle of full size. You can use these mini spirit bottles as promotional items at events or give them away as gifts with purchase!
Use them as giveaways at trade fairs, events, or conferences:
Mini spirit bottles make excellent giveaways at trade fairs and events where people are likely to be drinking. You can use them as giveaways at your booth and give them away as prizes during an event. This will help you get more exposure for your business and increase sales by generating interest in your product line.
The Mini Spirit Bottles Can Save Your Costs:
If you want to get a better publicity effect, it is inevitable to increase the cost. However, if you choose to order a custom batch of mini spirit bottles, this will save you some money! Here are some ways to help you save money with mini spirit bottles:
1. Create Your Own Custom Batch:
If you want to create your own custom batch of mini spirit bottles for your brand, then there are several things that you need to consider. First, create a list of all the items that you need so that the manufacturers can prepare them in advance.
Then choose the best material for your bottle and make sure that it can withstand any kind of abuse. Finally, make sure that the price is reasonable enough for both parties involved in this transaction. If everything goes well and there is no issue with your order, then it is time for payment!
2. You can reuse these bottles:
If you choose plastic bottles, although they will be lighter, they are difficult to recycle. Sometimes, you'll need to use these mini spirit bottles to showcase your wine at a trade show. Then you can wash and sterilize the glass bottle after the trade show, and save it for the next use! This is also a great way to save money!
All in all, choosing mini spirit bottles will not be a bad investment for you! Instead, they can help you get better sales!