Introduction of wholesale Irregular Beverage Bottle Candy Storage Jar
A flexible and distinctive option for storing and exhibiting a wide range of confectionery and beverage goods is the wholesale bottle candy storage jar. This jar's asymmetrical design adds character and inventiveness to any retail environment, making it a desirable alternative for companies wishing to stand out with their product presentation. These storage jars, which are made of premium glass, are strong and beautiful. The jar's asymmetrical design has advantages from a practical and aesthetic standpoint. Customers can easily reach their preferred candy or beverages because of the jar's asymmetrical shape, which makes it easy to hold and handle.
The jar's roomy inside has plenty of room for storage, making it ideal for carrying a variety of candy, nibbles, or even tiny bottles of liquids. The storage materials are kept fresh and of high-quality while being shielded from the outdoors by the airtight closure.
Retailers, event coordinators, and companies in the food and beverage sector would do well to choose these wholesale irregular beverage bottle candy storage jar. They may improve the overall appearance of any place in addition to acting as useful storage containers and appealing display pieces. These jars provide a fashionable and useful option for showing and storing your products, whether used in a candy shop, café or as part of event decor.
Why would a wholesale unusual beverage bottle candy storage jar be the ideal addition to your retail space?
Presentation is important in the retail industry. Retailers are continuously searching for methods to differentiate themselves from the competition, whether it be through eye-catching displays or distinctive packaging. The wholesale irregular candy storage jar is a functional and eye-catching solution that has grown in favor recently. These jars are the ideal complement to any retail setting since they combine practicality with beauty and adaptability to improve the way your products are displayed.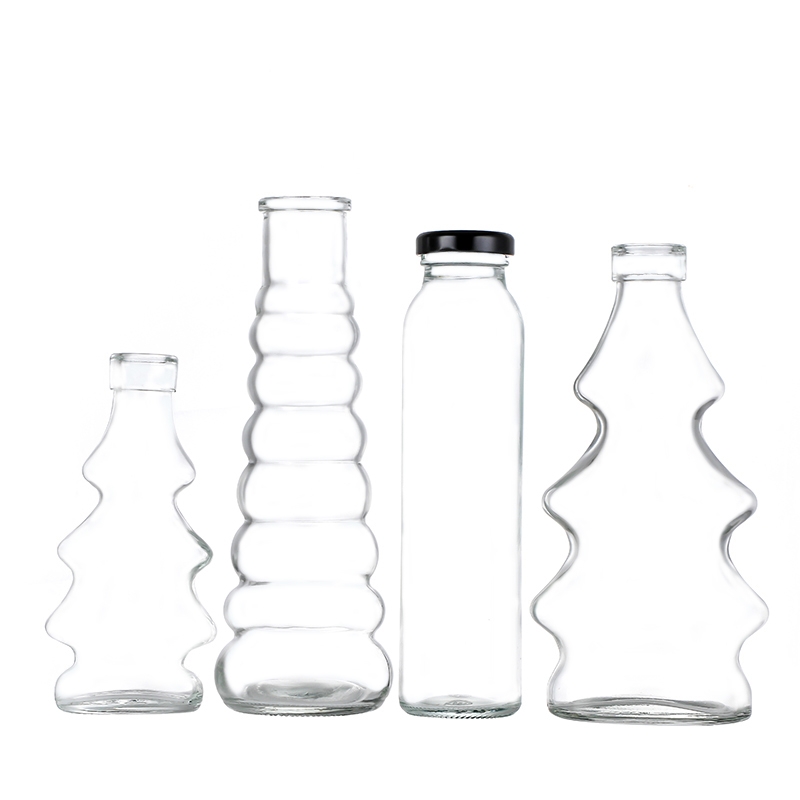 Unconventional Aesthetics: Making a Statement in a Crowd
It's critical to develop strategies for attracting potential clients' attention in a competitive market. Wholesale asymmetrical candy storage jars and beverage bottles do this. These jars, as opposed to conventional, cookie-cutter containers, come in a range of odd forms and sizes, immediately catching the eye and arousing interest. For shops trying to offer a unique shopping experience, this unorthodox style may be a game-changer.
These jars' atypical design not only gives your shop area a creative flair but also offers a distinctive backdrop for presenting your goods. These jars' asymmetrical shapes can improve the aesthetic appeal of your products, whether you're selling small bottles of drinks, gourmet chocolates, or vibrant sweets. Products presented in these distinctive containers are more likely to get attention from customers, making them an effective tool for boosting foot traffic and sales.
Design with Durability and Function: A Retailer's Dream
Although it's important, utility should never come at the expense of beauty. Exceptional in both respects are wholesale irregular beverage bottle candy storage jar. Since these jars are normally made of premium glass, durability and lifespan are guaranteed. As a result, you can invest in them with assurance, knowing that they will hold up to daily usage in a retail environment.
These jars' asymmetrical design serves more than aesthetic purposes; it also has useful advantages. Customers may easily obtain their favorite candy or beverages thanks to the practical shape that makes them easy to hold and handle. The jar's wide opening gives plenty of room for scooping out sweets, and its airtight cover protects the stored goods from dust and moisture to maintain their quality and freshness.
Alternatives to Candy and Drinks for Versatile Storage
The adaptability of wholesale irregular beverage bottle candy storage jar is one of its most important benefits. They are perfect for carrying candy and little bottles of beverages, but they might be used for much more than that. Retailers may use these jars in a variety of inventive ways to showcase different items.
These jars, for instance, might be used in a boutique clothing store to display little accessories like scarves, hairpins, and jewelry. They might include spices, herbs, or gourmet salts at a specialized food store. The options are limitless. Retailers can cater to various product lines thanks to this versatility, and they may routinely switch up their displays to keep customers interested.
Making a Lasting Impression: Enhanced Branding Opportunities
Every component of your retail space should support the identity of your brand, as it is an extension of your company's overall image. Wholesale jars that look like irregular beverage bottles are great for branding and personalization. Many vendors let you personalize your order by putting your company's logo or a distinctive label on the jars. By branding your storage jars, you can provide your consumers with a unified and memorable purchasing experience. They will be further convinced of your dedication to excellence and attention to detail when they see your logo clearly featured on these unusual containers. Additionally, it makes it more likely that buyers will remember your company and use it again for subsequent transactions.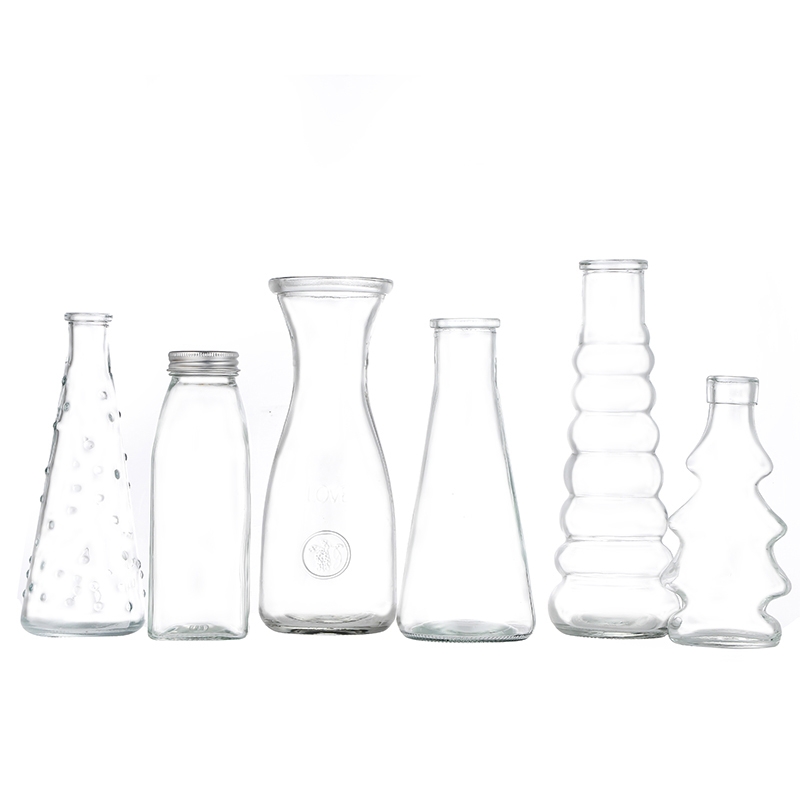 How to elevate your candy display with Wholesale Beverage Bottle Candy Jars?
A key component of retailing is visual merchandising, and wholesale irregular beverage bottle candy storage jars may be useful equipment for designing eye-catching displays. Their asymmetrical designs and transparent glass structure provide you with countless options for setting up and displaying your items.
For instance, you may layer colorful candy in these jars to create eye-catching layers, utilizing various sizes and shapes to give your displays depth and perspective. As an alternative, you may set up miniature bottled drinks in your business so that they form an alluring focus point. Customers can plainly view the contents of the glass due to its transparency, which may be particularly alluring for goods with vivid colors or distinctive textures.
Sustainability isn't simply a trendy phrase in the world of retail today; consumers demand it. Many consumers are actively looking for packaging and goods that are sustainable and beneficial to the environment. The bulk irregular beverage bottle candy storage jars uphold these values. These jars aid in cutting down on waste from single-use plastic because they are reusable containers. Customers who buy the items kept in these jars can repurpose the containers for various uses, such as home storage or refilling with bulk candy or drinks. This sustainability feature can appeal to shoppers who care about the environment and distinguish your store as a trustworthy merchant.
Conclusion:
CUICAN GLASS was founded in 2012; we are a dynamic, youthful business recognized as a pioneer in the production of various food-related glass jars and bottles. We have a team of knowledgeable, competent, and experienced technicians and salespeople that make up a younger, more knowledgeable crew.